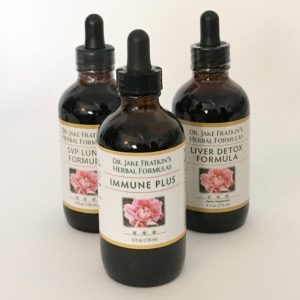 My Chinese herbal tinctures are offered to licensed health practitioners for their patients. They represent my 40 years of clinical practice, and I find them effective in most cases.
Made in USA with highest quality Chinese herbs, USA lab-tested to ensure no heavy metals, pharmaceuticals or chemicals. 50% grain alcohol-50% water extraction/percolation, 100 g. herbs per 4 oz bottle.
Each bottle delivers 28 adult servings, and lasts approximately two weeks.
Wholesale terms: Available to licensed practitioners for resale to their patients. There is a minimum order of 6 bottles, any combination. Click here to Log In or to create a Practitioner's Account.
Complete test vials of all formulas are available. Please inquire.
Cold, Flu, Infection Formulas:
GZQ Cold Formula (Common Cold) √
SVP Lung Formula (Cough) √
Clear Toxin (Flu and Severe Cold) √
CO-General Formula √
CO-Recovery Formula √
Simplex-Zoster Formula

 

Tonsil-Lymph Formula

 

Immune Plus √
Organ Regulation Formulas:
Blood Sugar Formula
Emperor's Longevity

  √

Gum and Tooth Formula
Kidney Detox Formula
Liver Detox Formula √
Pre-Menstrual Formula √
Prostate Formula √
Woman's Hair Formula √
√ Our most popular formulas!